Chapter 76: 744-748
Page 744
Dr. Johnson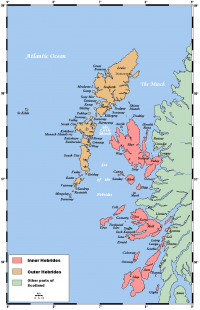 Samuel Johnson, see page
351
.
Boswell
See page 718.
Trip to the Hebrides
On 6 August 1773, eleven years after first meeting Boswell, Johnson set out to visit his friend in Scotland, to begin "a journey to the western islands of Scotland", as Johnson's 1775 account of their travels would put it. The work was intended to discuss the social problems and struggles that affected the Scottish people, but it also praised many of the unique facets of Scottish society, such as a school in Edinburgh for the deaf and mute. Also, Johnson used the work to enter into the dispute over the authenticity of James Macpherson's Ossian poems, claiming they could not have been translations of ancient Scottish literature on the grounds that "in those times nothing had been written in the Earse [i.e. Gaelic] language". There were heated exchanges between the two, and according to one of Johnson's letters, MacPherson threatened physical violence. Boswell's account, The Journal of a Tour to the Hebrides (1786), was a preliminary attempt at a biography before his Life of Johnson. Included were various quotes and descriptions of events, including anecdotes such as Johnson swinging around a broadsword while wearing Scottish garb, or dancing a Highland jig. From WIKI
Cham
An autocrat or dominant critic, especially Samuel Johnson. From WIKI
Page 745
Haggis
See page 216.
The 'Forty-five
See page 232.
Page 746
Quarto
(Paper) A size of paper (7.5"-10" x 10"-12.5"), formed by folding and cutting a standard large sheet of paper (15"-20" x 20"-25") twice to form 4 leaves (eight sides). From WIKI
Learnèd English Dog
See page 18.
Mandeville
See page 349.
Page 747
Cock Lane Ghost
See page 183.
Toss-Pot
(British, pejorative) A fool, prat, idiot etc. From WIKI
Page 748
Silbury Hill
See page 598.
Schiehallion
See page 730.
Perthshire
Perthshire, officially the County of Perth, is a registration county in central Scotland. It extends from Strathmore in the east, to the Pass of Drumochter in the north, Rannoch Moor and Ben Lui in the west, and Aberfoyle in the south... Perthshire was known as the "big county" and had a wide variety of landscapes, from the rich agricultural straths in the east, to the high mountains of the southern Highlands. From WIKI
Cotswold house
A Cotswold-style house is traditionally long and narrow (See 'Cider with Rosie' by Laurie Lee for a description of growing up in one).
The Cotswolds themselves are an area in south central England containing the Cotswolds Hills, a range of rolling hills which rise from the meadows of the upper Thames to an escarpment, known as the Cotswold Edge, above the Severn Valley and Evesham Vale. From WIKI
Annotations Index
One:
Latitudes and Departures

1: 5-11, 2: 12-13, 3: 14-29, 4: 30-41, 5: 42-46, 6: 47-57, 7: 58-76, 8: 77-86, 9: 87-93, 10: 94-104, 11: 105-115, 12: 116-124, 13: 125-145, 14: 146-157, 15: 158-166, 16: 167-174, 17: 175-182, 18: 183-189, 19: 190-198, 20: 199-206, 21: 207-214, 22: 215-227, 23: 228-237, 24: 238-245, 25: 245-253




Two:
America

26: 257-265, 27: 266-274, 28: 275-288, 29: 289-295, 30: 296-301, 31: 302-314, 32: 315-326, 33: 327-340, 34: 341-348, 35: 349-361, 36: 362-370, 37: 371-381, 38: 382-390, 39: 391-398, 40: 399-409, 41: 410-421, 42: 422-435, 43: 436-439, 44: 440-447, 45: 448-451, 46: 452-459, 47: 460-465, 48: 466-475, 49: 476-483, 50: 484-490, 51: 491-498, 52: 499-510, 53: 511-524, 54: 525-541, 55: 542-553, 56: 554-561, 57: 562-569, 58: 570-574, 59: 575-584, 60: 585-596, 61: 597-607, 62: 608-617, 63: 618-622, 64: 623-628, 65: 629-632, 66: 633-645, 67: 646-657, 68: 658-664, 69: 665-677, 70: 678-686, 71: 687-693, 72: 694-705, 73: 706-713

Three:
Last Transit

74: 717-732, 75: 733-743, 76: 744-748, 77: 749-757, 78: 758-773