Chapter 57: 562-569
Page 562
Chester Town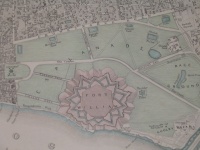 Chester is a town in Orange County, New York, United States... The town is named after another city in Great Britain. Chester contains a village, also called Chester. The town was first settled around 1721. The economy of the early town was based on dairy products. From
WIKI
The Black Hole of Calcutta
See page 483.
Fort William
Fort William is a fort built in Calcutta on the Eastern banks of the River Hooghly, the major distributary of the River Ganges, during the early years of the Bengal Presidency of British India. It was named after King William III of England. In front of the Fort is the Maidan, which used to be a part of the Fort and is the largest urban park in Calcutta. From WIKI
Page 563
Bengal
See page 404.
Howdah
A howdah, or houdah, is a carriage which is positioned on the back of an elephant, or occasionally some other animal, used most often in the past to carry wealthy people or for use in hunting or warfare. It was also a symbol of wealth for the owner, and as a result were decorated with expensive gems. From WIKI
Page 564
Polonaises
A polonaise (originally robe à la Polonaise) is a woman's garment of the later 1770s and 1780s or a similar revival style of the 1880s inspired by Polish national costume, consisting of a gown with a fitted bodice and cutaway, draped and poufed overskirt, worn over an underskirt or petticoat. The eighteenth century polonaise (also referred to as a milkmaid dress) was a conscious imitation of rustic country women's habit of tucking their outer gowns up to keep them out of the muck. From WIKI
Sacques
The robe à la française or sack-back gown with flowing pleats from the shoulders was originally an undress fashion. At its most informal, this gown was unfitted both front and back and called a sacque. Later, for formal wear, the front was fitted to the body by means of a tightly-laced underbodice, while the back fell in loose box pleats called "Watteau pleats" from their appearance in the paintings of Antoine Watteau. From WIKI
Eyre Coote
See page 478.
Sons of Liberty
The Sons of Liberty was a secret organization of American patriots which originated in the Thirteen Colonies during the American Revolution. British authorities and their supporters, known as Loyalists, considered the Sons of Liberty as seditious rebels, referring to them as "Sons of Violence" and "Sons of Iniquity." Patriots attacked the apparatus and symbols of British authority and power such as property of the gentry, customs officers, East India Company tea, and as the war approached, vocal supporters of the Crown. From WIKI Also, see page 406.
Info on Sons of Liberty Activities in New-York:
HERE and HERE.
Stamp Act
See page 395.
Mr. Pitt
William Pitt, 1st Earl of Chatham PC (15 November 1708 – 11 May 1778) was a British Whig statesman who achieved his greatest fame leading Britain during the Seven Years' War (known as the French and Indian War in North America). He again led the country (holding the official title of Lord Privy Seal) between 1766-68. He is often known as William Pitt, the Elder to distinguish him from his son, William Pitt, the Younger. He was also known as The Great Commoner, because of his long-standing refusal to accept a title. The major American city of Pittsburgh, Pennsylvania, is named after him. From WIKI
Massapequa
Massapequa is a hamlet located in Nassau County, New York. A suburb on the South Shore of Long Island in the Town of Oyster Bay. For many years it was reported that Massapequa was one of the 13 tribes of Long Island. Later research says that it was just a Native American name for the location. From WIKI
Page 565
Mais oui
That's right
the 'Sixty-six!
See this LINK
Prometheus
See page 372.
Cap'n Kennedy
Captain Archibald Kennedy, 11th Earl of Cassilis (bef. 1736 – 30 December 1794) was a Scottish peer, the son of Archibald Kennedy, the descendant of the second son of the 3rd earl. He lived in New York City at 1 Broadway in the Kennedy mansion until he was recalled to succeeded to the Earldom on the death of the 10th earl, who had died without male issue. From WIKI
H.M.S. Coventry
HMS Coventry was a 28-gun, Frigate of the Royal Navy. The ship was designed by Sir Thomas Slade "to the draught of the Tartar with such alterations withinboard as may be judged necessary", making her a further development of the Lyme. A further eight ships were built to the draught of the Coventry between 1756 and 1758. The ship was captured by the French in 1783. From WIKI
Page 566
Foretopman Bodine
See 55 and Bodine alphabetical entry.
Madras
Chennai, formerly known as Madras, is the capital city of the Indian state of Tamil Nadu. Chennai is the fourth most populous metropolitan area and the fifth most populous city in India. From WIKI
Capture of Manila
A British conquest of the Spanish Philippines occurred between 1762 and 1764, although the only part of the Philippines which the British actually occupied was the Spanish colonial capital Manila with the principal Spanish naval port Cavite, both on Manila Bay. From WIKI
Perth Amboy
Perth Amboy is a city in Middlesex County, New Jersey, United States. Perth Amboy is known as the "City by the Bay". Perth Amboy was formed by Royal Charter on August 4, 1718, within various townships... Perth Amboy Township was formed on October 31, 1693, and was enlarged during the 1720s to encompass Perth Amboy city. Perth Amboy Township was incorporated as one of New Jersey's initial 104 townships on February 21, 1798. The township was absorbed by Perth Amboy city on April 8, 1844. From WIKI
Fort George
See the LINK
Philip Dimdown
See page 388 and Dimdown, Philip.
Page 567
French Bomb-Ketch
A bomb vessel, bomb ship, bomb ketch, or simply bomb was a type of wooden sailing naval ship. Its primary armament was not cannon (long guns or carronades) - although bomb vessels carried a few cannon for self-defence - but rather mortars mounted forward near the bow and elevated to a high angle, and projecting their fire in a ballistic arc. From WIKI
La Fougueuse
The Fiery
the Communications
See page 485.
Sharpies and Snows
Sharpies are long, narrow sailboats with flat bottoms, extremely shallow draft, centerboards and straight, flaring sides. They are believed to have originated in the New Haven, Connecticut region of Long Island Sound, United States, for oystering, but later appeared in other areas. From WIKI
A snow (pronounced "snoo") or snaw, is a sailing vessel. A type of brig (snows are often-referred to as "snow-brigs"), snows were primarily used as merchant ships, but saw war service as well. The twin brigs Lawrence and Niagara, American warships of the Battle of Lake Erie, were both snows. From WIKI
Page 568
Mr. Emerson of Hurworth
See page 216.
Cur
Cur refers to a mutt, a dog of mixed ancestry, typically characterized as one who tends to growl frequently rather than maintain calm. It is also a derogatory term in American slang to insult someone by calling them a dog. Particularly, a mixed-breed dog. From WIKI
Page 569
Small Beer
Small beer is a beer/ale that contains very little alcohol. Sometimes unfiltered and porridge-like, it was a favoured drink in Medieval Europe and colonial North America where George Washington had a recipe involving bran and molasses. It was sometimes had with breakfast, as attested in Benjamin Franklin's autobiography... Small beer/small ale can also refer to a beer made of the "second runnings" from a very strong beer (e.g., scotch ale) mash. These beers can be as strong as a mild ale, depending on the strength of the original mash. This was done as an economy measure in household brewing in England up to the 18th century and is still done by some homebrewers and microbrewers such as Anchor Brewing Company. Metaphorically, small beer means a trifle, a thing of little importance. The term is also used derisively for commercially produced beers which are thought to taste too weak. From WIKI
Annotation Index
One:
Latitudes and Departures

1: 5-11, 2: 12-13, 3: 14-29, 4: 30-41, 5: 42-46, 6: 47-57, 7: 58-76, 8: 77-86, 9: 87-93, 10: 94-104, 11: 105-115, 12: 116-124, 13: 125-145, 14: 146-157, 15: 158-166, 16: 167-174, 17: 175-182, 18: 183-189, 19: 190-198, 20: 199-206, 21: 207-214, 22: 215-227, 23: 228-237, 24: 238-245, 25: 245-253




Two:
America

26: 257-265, 27: 266-274, 28: 275-288, 29: 289-295, 30: 296-301, 31: 302-314, 32: 315-326, 33: 327-340, 34: 341-348, 35: 349-361, 36: 362-370, 37: 371-381, 38: 382-390, 39: 391-398, 40: 399-409, 41: 410-421, 42: 422-435, 43: 436-439, 44: 440-447, 45: 448-451, 46: 452-459, 47: 460-465, 48: 466-475, 49: 476-483, 50: 484-490, 51: 491-498, 52: 499-510, 53: 511-524, 54: 525-541, 55: 542-553, 56: 554-561, 57: 562-569, 58: 570-574, 59: 575-584, 60: 585-596, 61: 597-607, 62: 608-617, 63: 618-622, 64: 623-628, 65: 629-632, 66: 633-645, 67: 646-657, 68: 658-664, 69: 665-677, 70: 678-686, 71: 687-693, 72: 694-705, 73: 706-713

Three:
Last Transit

74: 717-732, 75: 733-743, 76: 744-748, 77: 749-757, 78: 758-773